Volunteer Income Tax Assistance (VITA)

The College of Law VITA program is closed to new clients for this tax year.
If you have questions about a return we prepared, please contact Professor Douglas Michael at michaeld@uky.edu. 
We will open again to help you with your 2015 tax returns and all other tax matters in February, 2016.
Who is Eligible: We can help you with your return if your income is from only the following: wages, scholarships, interest, dividends, simple self-employment, simple pensions, unemployment insurance, social security or small miscellaneous items (gambling winnings, for example). 
If, after beginning work on your return, we cannot complete your return, we will give you all of the information you gave to us as well as a copy of the work we were able to complete so that you can take it to a paid preparer or seek other assistance. 
Do-it-yourself free tax help online. Several sponsors have partnered to offer My Free Taxes, which you can access at www.myfreetaxes.com/UK. A free helpline for this service only is available at 855-698-9435 from 9am-10pm (EST) Monday-Saturday. You are eligible for this service only if you are a US citizen or permanent resident, because the software provided does not prepare nonresident returns. Gross income limitation for this service is $58,000. This service is still available.
Location: UK College of Law, Room 47. The College of Law Building is on South Limestone, adjacent to Memorial Hall and across South Limestone from the Lexington Theological Seminary. Room 47 is located in the basement of the College of Law Building.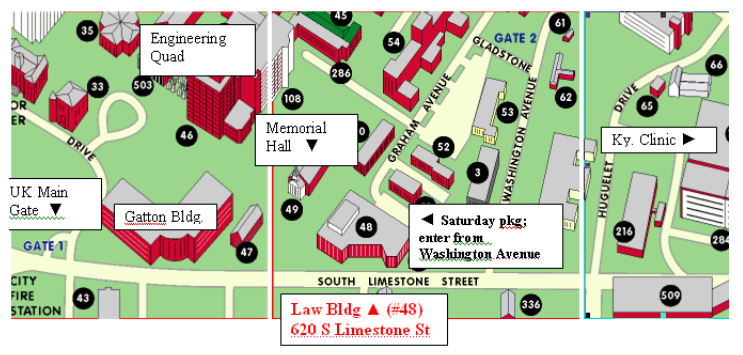 Parking: Parking behind the Law School is limited to UK permits during clinic hours on Monday through Thursday. Pay parking is available at meters in the parking lot at the corner of South Limestone and Prall Streets. Information on other visitor parking is available here. 
What to Bring:
Photo ID
Social Security Card or ITIN for taxpayer, spouse and dependents
All Forms W-2, 1099, 1098, or 1042-S you have received
Documentation of other income
Copy of last year's return, if available
Questions: For a list of frequently asked questions about VITA click here. 
Other Information: There are many other sites in Lexington offering free tax help. You can call United Way (simply dial "211" or 313-LINK) for appointments at those sites or for other information. 
For access to other free tax help in central Kentucky, click here. 
Internal Revenue Service 
Kentucky Department of Revenue