UK/CLE Big Ticket
What is the UK/CLE BIG TICKET?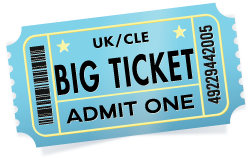 The UK/CLE BIG TICKET is an annual program pass that gives you 12 months of free admission to any of UK/CLE's programs (Live Conferences, Webinars, and even our Self-Study Programs catalog) for the single price of $495.* With UK/CLE's BIG TICKET, you can attend as many qualifying UK/CLE seminars that you wish for an entire year from the date of your BIG TICKET purchase. That's 365 days of CLE savings!
 
For more information, view or download the BIG TICKET order form. (PDF, 200k)
 
*THE FINE PRINT: UK/CLE's Self-Study programs are accredited with the Kentucky Bar Association only; UK/CLE Live Programs are accredited with the Kentucky Bar Association. Please contact UK/CLE for information about our Live Programs/Webinars being certified in other jurisdictions. Offer excludes the Annual National Conference on Equine Law. Course materials provided only in PDF format with use of the BIG TICKET and a separate fee will be charged for printed course materials. All Live Programs/Webinars must be completed and all Self-Study product orders must be placed within 365 days of date of purchase of your Big Ticket. Does not apply to UK/CLE publications purchases. One BIG TICKET per person. Call us for special pricing on purchasing multiple BIG TICKETS.
 
---