Preparing for Law School
In High School
No matter where you are in the process of exploring careers, it is never too early to discover law and the legal career options available. You can start taking steps to make sure you will be successful as early as high school. You may not have your career path completely figured out, but that's okay! The information here should be helpful no matter how set you are on a specific career. After all, there is plenty of time to explore the various career fields while you are in college!
A challenging, well-rounded high school curriculum will help prepare you for college and law school. Additionally, developing good study habits and time management will pay off in the future. DiscoverLaw.com is a great resource.
There are a few skills that it is never too early to start working on. First, read as much as possible! When you can, read books or articles that will stretch your vocabulary and general knowledge. English and Literature classes can help you develop your reading comprehension and your ability to think critically about what you are reading. Don't limit yourself to reading about law or law related topics.
Second, develop your writing. Being able to write well is an important skill in high school, college, law school, and nearly every profession. In law specifically, being able to write clearly, concisely, and persuasively will serve you well. Take classes that will require you to research and write papers, as well as have them critiqued by your teachers.
Third, learn about the different things that influence human behavior and society. This is a broad field of topics including classes like social studies, sociology, political science, economics, psychology, history, government, and anthropology just to list a few. Additionally, classes that sharpen your analytical thinking and problem solving skills are also helpful. These can be classes that cover topics in the fields of science, mathematics, logic, or philosophy.
Fourth, explore your interests with extracurricular activities. Participating in debate, mock trial, or moot court teams will give you experience with what litigation is like, and will sharpen your oral communication skills. Additionally, these types of extracurricular activities are wonderful additions to your resume, and are a good way to enhance your verbal skills and self-confidence.
In College
If you are already in college and are thinking about law school, don't worry if your major isn't typically thought of in connection with law. Law schools accept students from practically every undergraduate major option there is. Choose a major you enjoy and find interesting, since you will be more likely to succeed. In addition, if you decide later not to attend law school, a background in something that you enjoy will allow for more options than a typical "law school" major might.
In college as much as in high school, taking classes that require you to write papers and have them critiqued by your teachers or peers is an invaluable experience. It is also a good idea to consider taking at least one course related to logic. Having classroom experience with logic fundamentals will likely make the logical reasoning – an infamous section of the Law School Admission Test (LSAT) – less difficult during your LSAT preparation.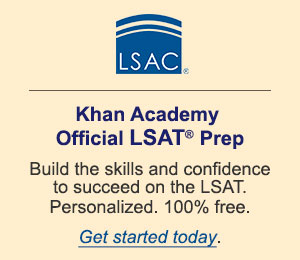 Generally, starting to plan for the LSAT in your junior year will give you plenty of time to study, take the LSAT (in June after your junior year), and have time to retake the LSAT if desired. There is a great deal of information about the LSAT on the Law School Admission Council (LSAC) website. 
Now there are more resources to help you prepare for the LSAT than ever before.  For instance, Khan Academy, is a new online resource for LSAT preparation that is completely free to all users.
It is never too early to start thinking about which faculty members you would like to ask for letters of recommendation. Letters of recommendation are a required part of almost every law school application. The best letters of recommendation come from faculty who know you well, are familiar with your academic work, and can write about your performance as a student. Making an effort to get to know your professors early is not only a smart step toward law school, but will often lead to a greater understanding of the subjects they teach.