Outside Scholarships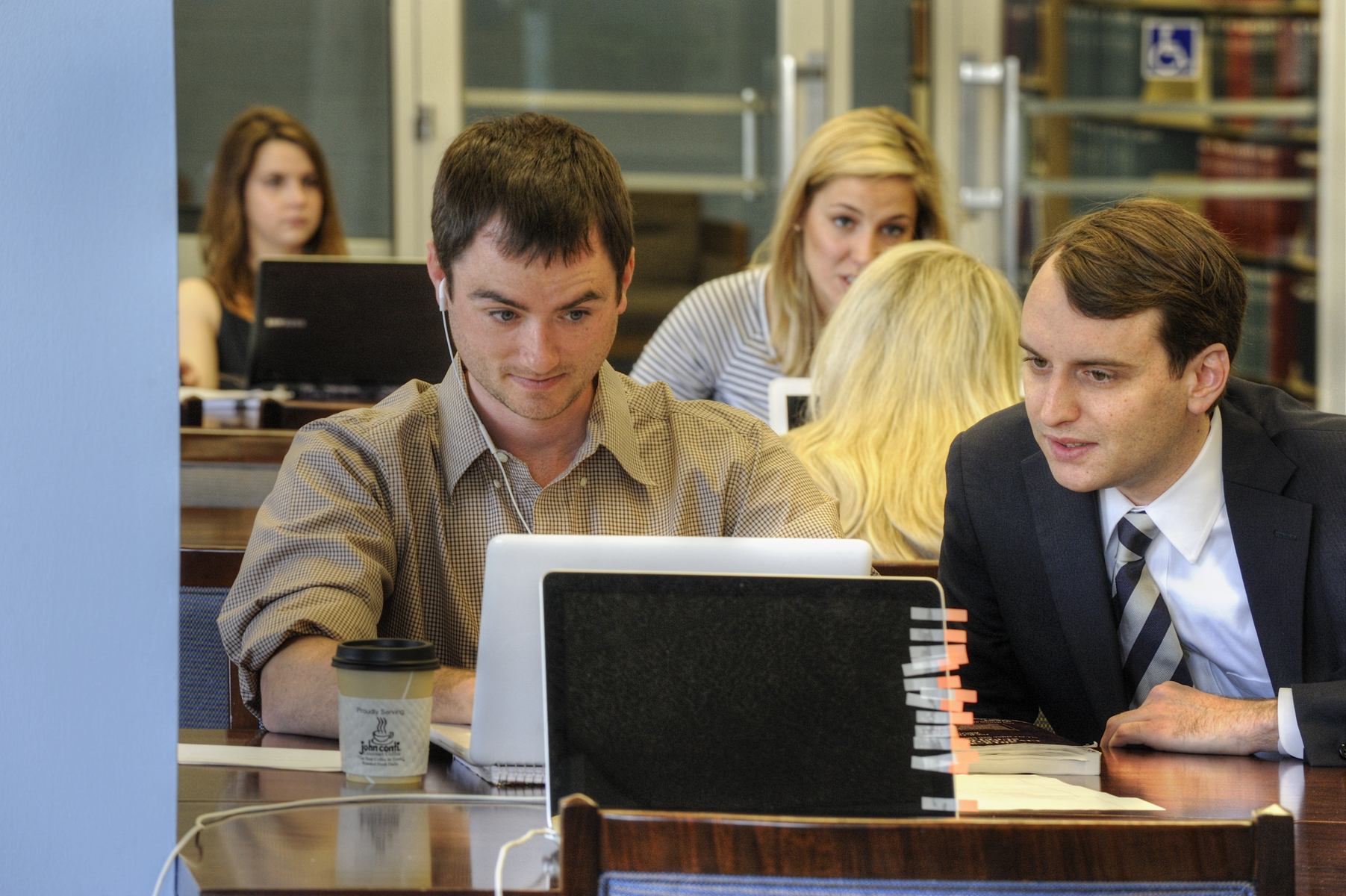 .
​
​
---
FOR THE PEOPLE SCHOLARSHIP
Deadline: December 1, 2018
For 30 years, as Morgan & Morgan attorneys have joined us to work "for the people," it's been a commitment that extends beyond the courtroom. Our core philosophy is that we don't shy away from a challenge. We do what's necessary to bully the bullies, whether that means winning large jury verdicts against big corporations and insurance companies, fighting unscrupulous employers, or advocating for civil rights, among other things.

We want to inspire young lawyers to approach their careers with the same mindset. Our $5,000 For The People Scholarship will be awarded to an individual who is accepted or currently enrolled in law school and is driven to fight for those who need it most.

Scholarship applicants will be evaluated primarily on the quality of their answers, but also on their creativity.
ELIGIBILITY & REQUIREMENTS
In order to be eligible for the scholarship, applicants must meet the following requirements:
Students currently accepted or enrolled at a law school accredited by the American Bar Association (ABA) or the Association of American Law Schools (AALS).
Applicants cannot be related to anyone who works at Morgan & Morgan.
Past scholarship awardees are not eligible to participate.
---
SUBMISSION REQUIREMENTS
Applicants will submit an essay addressing the following question:
Discuss a cause you're passionate about and how you would further pursue supporting it in your legal career.
---
ESSAY SUBMISSIONS
The essay must be between 800 and 1,000 words.
Applicants must submit their applications via this form.
---
Scholarship Amount: $ 5000
​
​
---
The Blanch Law Firm Scholarship Award
​
​
Deadline: 
Rolling - Submissions due within 14 days of receipt of assignment.
ELIGIBILITY
The contest is open to all students. Ambitious applicant are permitted to submit multiple articles. No co-authored essays are accepted.
REQUIREMENTS
Essays should have a minimum of 2,500 words. Links to all sources must be included in a footnote.

Entrants may seek general feedback on their draft essays from professors, or colleagues. An essay submitted to the competition, however, must be entirely the entrant's own work product and may not be written or edited by any other person.

The essay should be typewritten, double-spaced on 8 1/2″ x 11″ pages. The number of words on each page should be entered on the bottom right hand corner of each copy. The total number of words should be entered on the last page. In computing the number of words, all articles and prepositions should be counted. Count numbers and abbreviations as words. For example, F.2d = 1 word; 746 F.2d 619 = 3 words.
FINANCIAL AWARD
* Cash awards totaling $5,000.

* Authorship – publication credit

* An opportunity to come work with our lawyers in New York City for a one day.
Deadline: Rolling - Submissions due within 14 days of receipt of assignment.
Award Amount: $5,000 
Application Information Here​
---
The 2018 Weiss & Paarz Annual National Law Scholarship
​
Deadline: September 3, 2018 
Each year, Weiss & Paarz will award a $1,000 Law Scholarship to a student starting or continuing law school anywhere in the United States of America.
As a law firm that exclusively handles medical malpractice, our attorneys, paralegals, and staff members have dedicated their careers to helping victims of preventable catastrophic injury. Just as we never let a client's financial restrictions get in the way of achieving justice, we firmly believe that no student should be deprived of the opportunity to succeed due to a lack of financial resources.  We are especially interested in young individuals who plan to become lawyers. We are confident in the youth of America's ability to change our world for the better through strong character development, community enrichment, and higher education.
We are thrilled to announce the second year of this exciting scholarship opportunity. Scholarships will be awarded each year to the student who demonstrates all of the following qualities and characteristics:
Financial need
Exceptional work ethic
Strength in the face of adversity
Outstanding academic achievement
Commitment to the local community and charitable giving
Ability to lead others
Overall moral character
Students must submit their application by e-mail to Sarah Weiss Rozalis at sweiss@weisspaarz.com by 09.03.18. All applications must include the following:
Curriculum Vitae or Resume listing work experience, educational background, and high school and college grade point average and class rank, if applicable;
Personal Statement, which includes a description of your career goals and what you plan to use the scholarship funding for (2 pages maximum);
Confirmation of enrollment in an ABA-accredited law school or copy of your current student ID; and
Copy of your state ID or driver's license
Deadline: September 3, 2018 
Award Amount: $1,000
Application Information Here
---
Beverly Hills Immigration Lawyers Scholarship 2018
​
Deadline: September 30, 2018 
The Beverly Hills Immigration lawyers at the Law Offices of Joshua L. Goldstein, P.C. works with clients from all over California but we have a particular fondness for our Beverly Hills clients given their often unique situation.  We are pleased to announce our 2018 "Beverly Hills Immigration Lawyers Scholarship 2018".  Our goal is to offer a scholarship to a foreign born student, or child of a foreign born student (with or without lawful status) to help pay for education costs.
We feel the need to help promote the leaders in the community we serve and by helping to provide financial support we're supporting the future leaders of the community we're dedicated to serve.  We are particularly encouraging applicants from students without traditional sources of financial assistance including, undocumented immigrants, DACA recipients, and students currently in the green card application process.  We will be giving out the $1,000 Scholarship by the end of 2018 after our review of scholarship applications is complete.
Eligibility
Submitting a completed application using the form below
Be included in one of the following categories: 1. Foreign born student who now resides in the US or 2. US born student whose parents originated from another country.
Proof of Enrollment or future enrollment in Post-High School education (trade school, graduate school, etc).
Selection Criteria
We will be selecting a winner based off of the following factors:
Follows directions provided
Essay quality
Transcript from last institute of education
Resume
Deadline: September 30, 2018 
Award Amount: $1,000
Application Information Here
---
---
General Counsel, P.C. First Generation Scholarship
​
Deadline: November 18, 2018 
General Counsel, P.C. is pleased to offer the General Counsel, P.C. First Generation Law Student Scholarship. This scholarship is open to high-achieving law students who are the first in their family to attend law school. We will be awarding $1,500 to two (2) outstanding applicants.
Application Deadline:
November 18, 2018; Winners to be announced on or before December 18, 2018
Eligibility:
Must be the first in your family to attend law school
Law student currently attending an accredited law school in the U.S.
U.S. citizen or permanent resident; 18 years or older
Requirements:
Cover Letter
At least one (1) letter of recommendation: can be professional, academic, family, or personal
1-2 page essay describing what it means to you to be a first generation law student.
Transcript
Deadline: November 18, 2018 
Award Amount: $1,500
Application Information Here
---
---
Thomas Law Offices Offering $1,000 College Scholarship
​
Deadline: July 12, 2019 
Thomas Law Offices, a personal injury law firm in Louisville, Kentucky, is offering a once-yearly $1,000 scholarship to students who are currently attending or plan to attend their first year of college or graduate school in the upcoming fall semester. The rising costs of education are continuing to be a hardship many students struggle to overcome. Our Louisville personal injury lawyers believe that by helping students overcome those struggles, our world can become a brighter place for future generations. This scholarship gives us an opportunity to do just that.
We first started the scholarship in 2016.
Scholarship Details and Guidelines
Students can be attending or planning to attend any college or graduate school in the United States.
To receive scholarship funds, you must be living in the United States (with a U.S. mailing address) at the time of the scholarship's due date.
All applicants must be attending or plan on attending for their first year.
As proof of your first-year status, you will need to submit a digital copy of your acceptance letter—complete with the college letterhead—from that college.
All applications for the current semester are due by Friday, July 12, 2019.
Essay Topic
To apply, you'll need to submit a 500+ word essay on the following topic:
Explain a time that you were truly grateful for someone else's help and how it impacts you today.
Once the application period closes, Thomas Law Offices will determine a winner based on the following factors: feasibility, originality, creativity, and the applicant's level of knowledge in the topic as well as their ability to write a well-crafted essay. We aren't necessarily looking for an "A"-grade essay from an English or law student, but rather an essay that explores the topic uniquely.
By submitting your essay to us, you agree that your essay may be featured on our blog. We will publish the winning essay as well as a couple of the top contenders. Published essays may appear with minor edits in place.
Deadline: July 12, 2019 
Award Amount: $1,000
Application Information Here
​
​