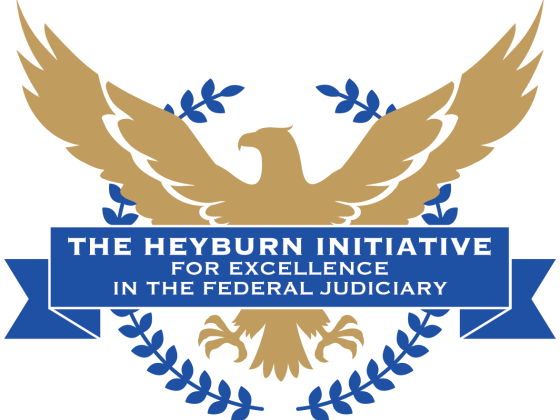 Please join us on Friday, Jan. 27, 2023
The John G. Heyburn II Initiative for Excellence in the Federal Judiciary and the University of Kentucky J. David Rosenberg College of Law proudly present
A Conversation with The Honorable Sri Srinivasan
Chief Judge of the United States Court of Appeals for the District of Columbia Circuit
Please join us at 4 p.m. on Friday, Jan. 27, 2023, in the G. Chad Perry III Grand Courtroom of the law building located at 620 S. Limestone, Lexington, Kentucky, 40506.
The conversation on Friday, Jan. 27, 2023, is part of a two-day Jurist in Residence program in which Chief Judge Srinivasan will meet with small groups of law students – including students serving on the college's two law journal boards, Moot Court Board; Trial Advocacy Board; and the Diversity, Equity, and Inclusion Student Advisory Board – as well as UK Rosenberg College of Law faculty and invited guests from the legal community. In addition, he will serve as a guest speaker in law school classes.
The John G. Heyburn II Initiative for Excellence in the Federal Judiciary is a national, non-partisan program devoted to improving the federal judiciary system, with a particular focus on Kentuckians' contributions to American legal discourse.
Chief Judge Srinivasan was appointed to the U.S. Court of Appeals for the District of Columbia Circuit in May 2013 and became Chief Judge in February 2020. Born in Chandigarh, India and raised in Lawrence, Kansas, he received a B.A. from Stanford University, a J.D. from Stanford Law School, and an M.B.A. from the Stanford Graduate School of Business. Following graduation, he served as a law clerk to Judge J. Harvie Wilkinson III of the U.S. Court of Appeals for the Fourth Circuit, as a Bristow Fellow in the Office of the U.S. Solicitor General, and as a law clerk to U.S. Supreme Court Justice Sandra Day O'Connor. In 1998, he joined the law firm O'Melveny & Myers. From 2002 to 2007, he served as an Assistant to the Solicitor General. In 2007, he returned to O'Melveny & Myers as a partner, later becoming chair of the firm's appellate and Supreme Court practice. From 2011 until his appointment to the U.S. Court of Appeals, Chief Judge Srinivasan served as the Principal Deputy Solicitor General of the United States. He has argued 25 cases before the U.S. Supreme Court. He has also taught appellate advocacy at Harvard Law School as well as a seminar on civil rights statutes and the Supreme Court at Georgetown University Law Center.
Cornerstone Garage (PS #5): Cornerstone Garage has an entrance and exit on South Limestone and on Upper Street. The cost for parking is $2 per hour with a $16 per exit maximum. Cornerstone Garage is free and open to the public on weekends, beginning at 7 p.m. Friday through 10 p.m. Sunday. Overnight parking is also permitted on Friday and Saturday nights, but all vehicles must exit the garage before 10 p.m. on Sunday.