1997 Hall of Fame Inductee
Edward T. Ned Breathitt
Class of 1950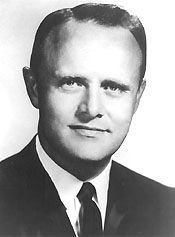 Governor Edward T. (Ned) Breathitt was born and raised in Hopkinsville, did his undergraduate work at UK's College of Commerce, and graduated from the UK College of Law (now the UK J. David Rosenberg College of Law) in 1950. Upon graduation he was admitted to the bar and returned to Hopkinsville where he began a career in law and public service.  
Breathitt ran for his first public office in 1951 and was elected to the Kentucky House of Representatives. He served as the President of the Young Democratic Clubs of Kentucky and as chairman of the state speakers' bureau for Adlai Stevenson's presidential campaign in 1952. In 1954 he worked on the state campaign staff of former Vice President Alben W. Barkley's successful bid for re-election to the U.S. Senate. 
Breathitt served three terms in the Kentucky legislature, was a member of the Governor's commission on Mental Health and the State Public Service Commission, and was State Personnel Commissioner. He was elected Governor of Kentucky in 1963. During his tenure he became best known for his role in the civil rights movement and he received the prestigious Lincoln Key Award in 1966 for his leadership in the passage of the state's civil rights bill. 
After returning to private practice in 1967, Breathitt became special counsel in Kentucky for the Southern Railway. He was named Director of the Institute for Rural America and was appointed Federal Representative on the Southern Interstate Nuclear Board in 1968. He was elected Chairman of the Coalition for Rural America in 1971. He joined Southern Railway (which eventually became Norfolk Southern Corporation) in 1972 as Vice President of Public Affairs. He remained with this company until his retirement in 1992 when he returned to Kentucky and began practicing with the law firm of Wyatt, Tarrant & Combs in Lexington. 
Throughout his career Governor Breathitt has had a strong interest in volunteer and community service. He has served as a Director of the Home Loan Bank of Cincinnati and as Chairman of the Kentucky Heart Fund Campaign. He has been a strong advocate for higher education having served on the Council of Higher Education, the Board of Regents of both Morehead State University and Kentucky State University, and on the Southern Region Education Board. He was a former Chairman of the UK Board of Trustees, and a past member of the College of Law's Visiting Committee where he played an integral role in the planning and execution of several of the college's major fundraising projects including the Bert Combs Scholars program. The Edward T. Breathitt Professorship has been established in his honor at the College of Law. 
At the age of 78, Governor Breathitt passed away in 2003.