1997 Hall of Fame Inductee
Ollen Hinnant
Class of 1955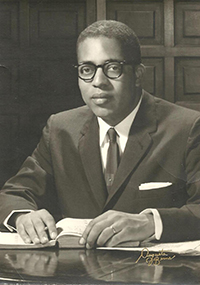 Ollen Hinnant grew up in Lexington and received his LL.B. in 1955 from the UK College of Law. He is the first African-American to graduate from the College and in doing so he blazed a trail for many who have followed in his path. Upon graduation Hinnant served two years in the army before beginning his legal career with State Farm Insurance where he became the first Black lawyer in the history of the company. Mr. Hinnant then accepted a position with the Prudential Insurance Company where he rose through the ranks to become an Assistant General Counsel in the International Law Department and a Special Assistant to the Chairman of the Board. 
While at Prudential Mr. Hinnat continued to pave the way for other African-Americans. He was the first Black general counsel for Prudential, the first Black chair of the American Bar Association Health Insurance Committee, and the first Black to represent the ABA to the American Medical Association.
Because of his knowledge and expertise in the insurance field Mr. Hinnant often found himself put in leadership positions representing Prudential in a number of international business meetings, he was highly regarded in Washington where he played an integral role in the appointment of Juanita Morris Kreps to the position of Secretary of Commerce in 1979. He was appointed as judge on the Selective Service Board by President Ford, and under President Reagan's administration he was appointed as a United States Commissioner to UNESCO and to a presidential task force. Mr Hinnant left Prudential in 1983 to accept a position with the international law firm of Delson & Gordon. He remained with this firm until his retirement. 
In 1997 Mr. Hinnant became the first African-American to be inducted into the College's Hall of Fame. He was also an inductee into the National Bar Association's Hall of Fame.
Mr. Hinnant passed away in 2016, at the age of 85.
To celebrate the 60th anniversary of Mr. Hinnant's graduation from the College of Law, a group of Alumni established a scholarship bearing his name. This award ensures that future students who contribute to the diversity of the law school have the opportunity to attain a legal education like the trailblazer before them, Mr. Hinnant.  To contribute to this fund, please visit: https://uky.networkforgood.com/causes/11335-ollen-b-hinnant-ii-scholarship-fund