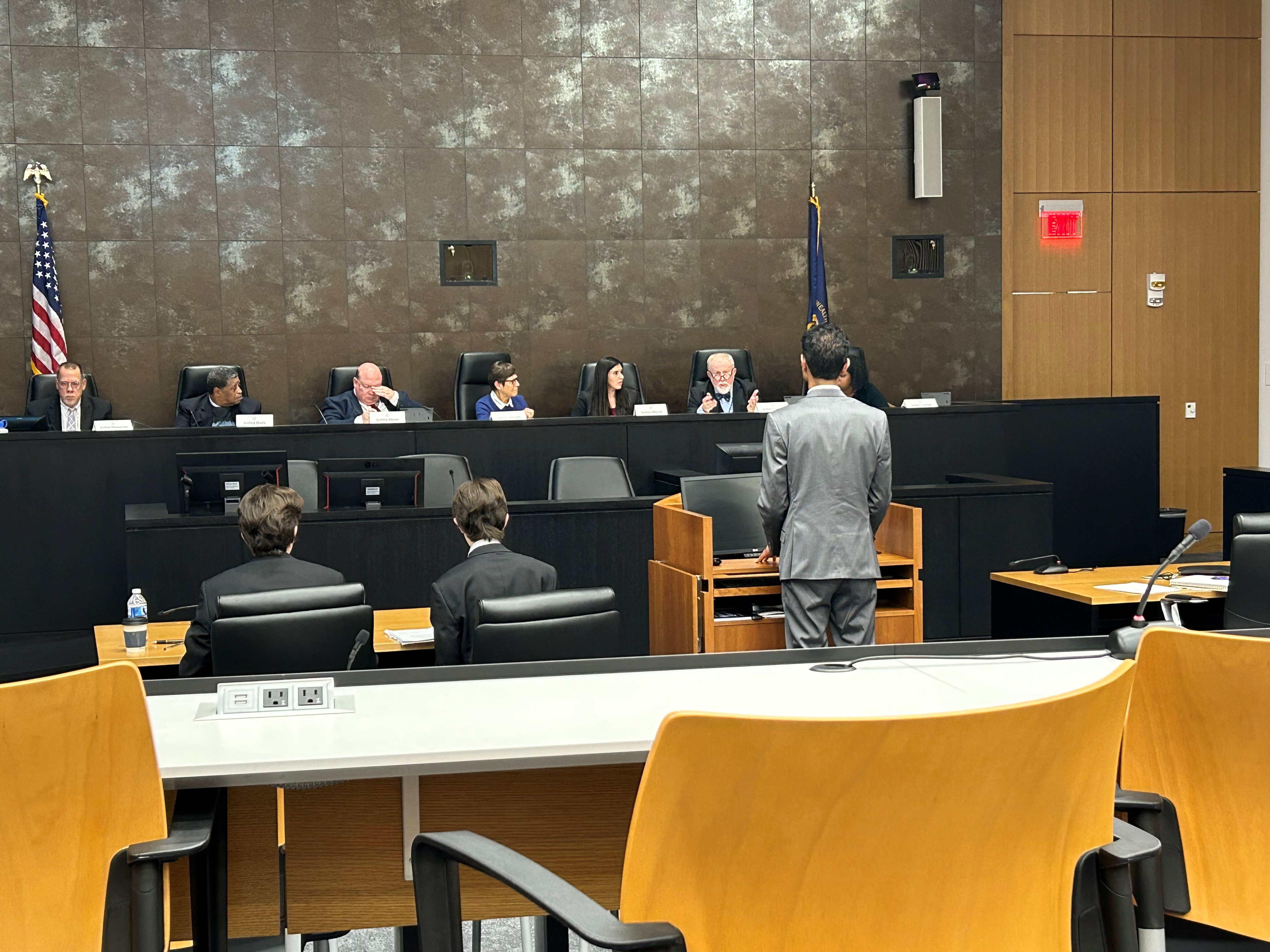 UK Rosenberg College of Law Hosts Inaugural Moot Court Tournament
Undergraduate students from across the country recently traveled to Lexington, Kentucky, and filled classrooms – temporarily designated as courtrooms – at the University of Kentucky for the inaugural Bluegrass Regional Moot Court Tournament, co-sponsored by the UK J. David Rosenberg College of Law and Berea College.
Sixty-eight undergraduate students from Berea College; University of Louisville; Vanderbilt University; University of Georgia; Clemson University; University of California, Berkeley; Air Force Academy; Colorado Christian University; Patrick Henry College; and Williams College formed 34, two-person teams for the tournament held Nov. 11 – 12.
Kit Beyer and Andy Beyer, sophomores and siblings from University of California, Berkeley, were the tournament champions.
"It has been an amazing experience," Kit Beyer said after the awards ceremony. "This is my first moot court tournament. So, to fly across the country and be here was such an honor. I've gone up against so many amazing teams. I feel like I've learned a lot and I'm really excited for what's coming next with nationals."
This year's national case problem involved a Fourth Amendment issue and an Eighth Amendment issue. The finalists and semifinalists of the Bluegrass Regional Undergraduate Moot Court Tournament qualify to move on to the national American Moot Court Association tournament.
"It has been a wonderful experience from start to finish," Andy Beyer said. "All the judges have been so great at giving me feedback. I feel like I have so much that I can improve upon but also I've been able to put into practice the things that I've been learning, and it's ultimately been such a great culmination of moot court season so far, and I can't wait to see what happens next at nationals."
The runners-up were Sarah Zhang and Aayush Singh, also from University of California, Berkeley. The two semifinalist teams were Cavin Huh and Hope Turner from Patrick Henry College as well as Sawyer Bradford and Katy Carroll from University of Georgia.
The tournament was held in various classrooms in the Law Building and Gatton College of Business and Economics at UK. The students competed in the G. Chad Perry III Grand Courtroom in the Law Building for the final round, followed by an awards dinner in the Honorable William S. Cooper '70 Classrooms on the third floor of the Law Building.
Tournament Director Dan Huck, who is a professor of Law, Ethics & Society at Berea College, said the event emerged from initial conversations before the COVID-19 pandemic about possibly holding a less formal, invitational tournament. After a few years of delay, however, the American Moot Court Association suggested a regional tournament instead. "UK Rosenberg College of Law and Berea took that next step as partners in putting on a full regional competition, and the results have been fantastic. This event really demonstrated for me the unique generosity of the practicing professionals and law students who are part of a larger community around the Law School."
"We want this tournament to be a meaningful and memorable experience for the undergraduate students," UK Rosenberg Law Dean Mary J. Davis said. On Friday, Davis welcomed participants to the tournament and law school.
Local attorneys and judges, including UK Rosenberg College of Law alumni, as well as UK Rosenberg Law faculty volunteered to serve as "justices" who heard oral arguments.
"I volunteered because I've been looking for an opportunity to get out in the community and be involved, and I don't think there is a better way that we can serve our community than by serving our budding legal scholars," said Felisa Moore, UK Rosenberg Law Class of 2017.
Both Moore and fellow volunteer Jamila Carter, a 2019 UK Rosenberg College of Law graduate, are attorneys in the Lexington, Kentucky, office of Stoll Keenon Ogden PLLC.
"I did moot court in law school, and I really enjoyed the experience," Carter said. "I wanted to help the budding, bright future of the legal community and really help mentor and guide the future lawyers who I'm going to be working with and people who are going to be able to change the world."
Attorney William L. Davis, UK Rosenberg College of Law Class of 1977, said he was motivated to volunteer as a justice because both his undergraduate (Berea College) and law school (UK) alma maters were sponsors.
"I wanted to help young people. I'm also involved in helping young people in our community, and I wanted to see the progress being made with the young generation because all I hear in the news is about how the young generation is letting us down," Davis said. "But these people sound like they are professional lawyers even though they're undergraduates."
Current UK law students were also on hand during the tournament to serve as bailiffs and timekeepers.
"As a law student, I remember my first experience with oral arguments and the weeks of work it took to prepare," said Iman Ali, a second-year law student at UK who served as a bailiff. "I was so impressed to see participants in our moot court competition exhibit such a high level of discipline and professionalism, especially as undergraduate students. The field of law will be in good hands if we have sharp minds like these students involved in the future."
Abby Schueler, a third-year law student and Berea College alum, served on the planning committee for the tournament and recruited the student bailiffs and timekeepers.
"This has been an incredible opportunity for the College of Law," Schueler said at the awards ceremony. "Every participant here these past two days did something very incredible, and very hard. I hope that you go home tonight with an immense and well-deserved sense of pride because you all deserve it."