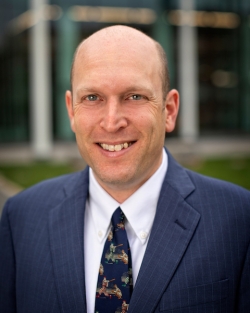 UK Rosenberg Law Professor Joshua Douglas selected to join prestigious law institute
University of Kentucky J. David Rosenberg College of Law Professor Joshua Douglas has been selected to join The American Law Institute (ALI), the leading independent organization in the United States producing scholarly work to clarify, modernize and otherwise improve the law.
ALI members include eminent judges, lawyers and law professors from across the United States and many foreign countries. Members are selected based on professional achievement and demonstrated interest in improving the law.
"Becoming a member of the ALI is a signature accomplishment in the legal profession, and especially in the legal academy," UK Rosenberg Law Dean Mary J. Davis said. "This competitively selected membership is difficult to achieve. Josh was nominated by his peers in the election law field; a law professor cannot be nominated by someone on their own faculty. This fact alone makes Josh's selection meaningful."
New members are nominated by an ALI member, with seconding letters from an additional two members. The council or executive committee then elects new members three times a year based on recommendations by a membership committee.
Douglas was one of 60 new members elected in July 2022.
This is only the fifth time a UK Rosenberg Law professor has been elected to become a member of the organization. Other UK Rosenberg Law members include professors David Brennen, Kathryn Moore and Sarah Welling, emeritus, as well as Dean Mary Davis.
"This impressive group of newly elected members will add to the breadth of expertise in The American Law Institute's membership," said ALI President David F. Levi in a news release. "Our return to an in-person annual meeting this year affirmed the strength of the ALI's spirit of collaboration and connection. I am excited to welcome this group's participation in our ongoing projects and look forward to celebrating the ALI's 100th anniversary with them at next year's Annual Meeting."
Douglas, the Ashland, Inc.-Spears Distinguished Research Professor of Law, teaches and researches election law and voting rights, civil procedure, constitutional law and judicial decision making. He is the author of "Vote for US: How to Take Back our Elections and Change the Future of Voting." His most recent legal scholarship focuses on the constitutional right to vote, with an emphasis on state constitutions, as well as the various laws, rules and judicial decisions impacting election administration. He has also written extensively on election law procedure.
Douglas earned his J.D. from George Washington University Law School, where he was an articles editor on the GW Law Review. Prior to joining UK, Douglas clerked for Judge Edward C. Prado of the U.S. Court of Appeals for the Fifth Circuit and practiced litigation at the law firm of Akin, Gump, Strauss, Hauer & Feld.
"The ALI does really important work to offer solutions for law reform," Douglas said. "For example, members of Congress recently consulted the ALI in crafting the new proposed reform to the Electoral Count Act, which dictates how Congress counts electoral college votes. I'm honored to join this organization and am flattered that my colleagues believe I can help in the ALI's vital work."