Commencement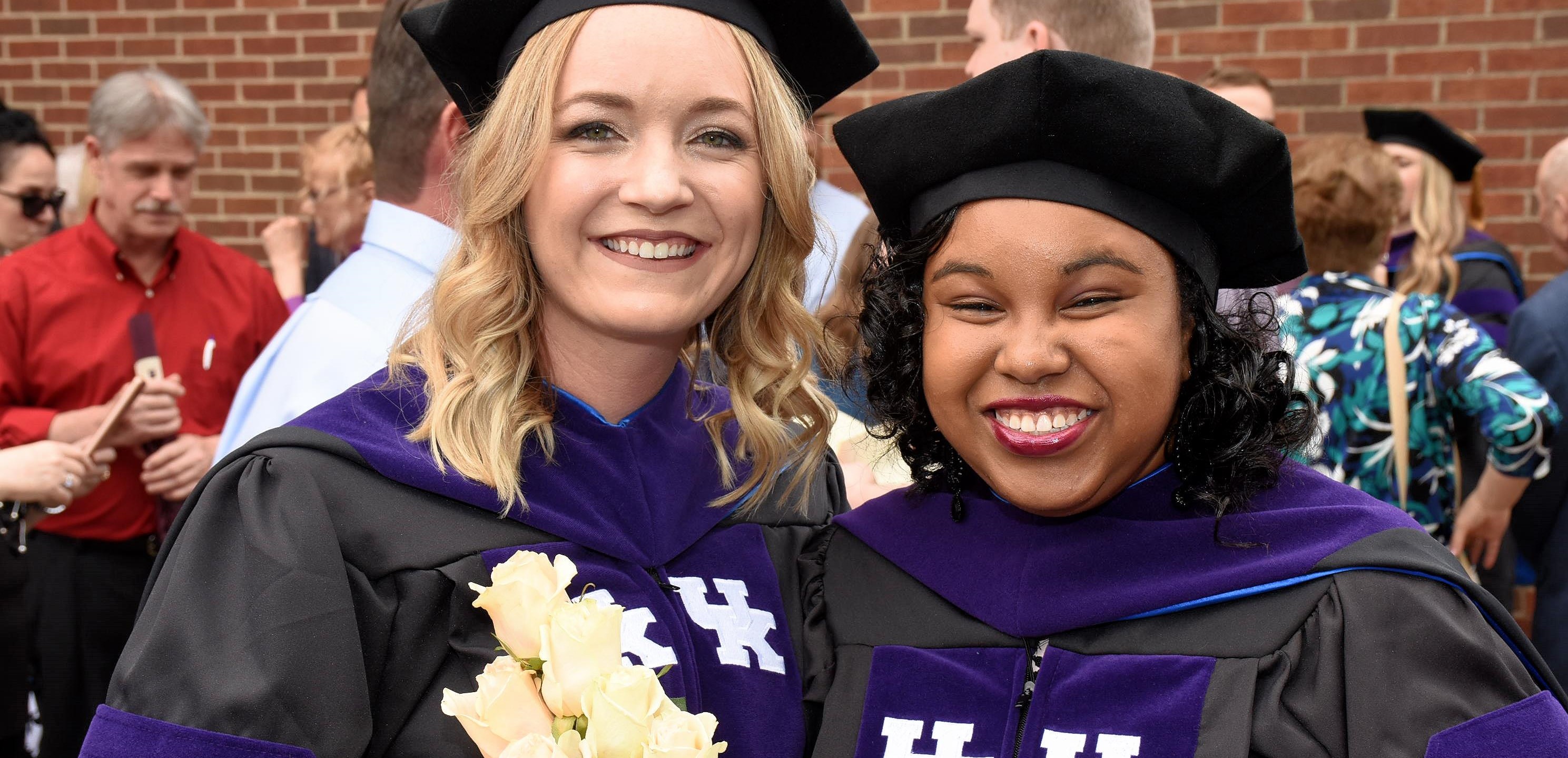 ​May 2021 Commencement
Friday, May 14, 2021
4:00 p.m.
Memorial Coliseum
201 Avenue of Champions
Lexington, KY 40506
 
CEREMONY INFORMATION
GRADUATES

CHECK-IN

All graduates must enter and check-in through the Rose Street entrance. There will signs pointing you to the correct entrance. (This entrance will be solely dedicated to graduates.)
Graduates should wear comfortable shoes, as there will be lots of standing and walking.
Memorial Coliseum does not have air conditioning. Graduates should consider leaving suit jackets, blazers, or sport coats at home.
 

PROCESSIONAL & RECESSIONAL

Numbered floor markings 6 ft. apart will expand from the Avenue of Champions entrance and snake all the way up and around the Rose Street Concourse.
Each student will be assigned a number indicating the order in which they should line up on the taped markings prior to the processional.
Processional and recessional will be through the Ave. of Champions interior court entrance.
Seating for graduates will be physically distant chairs, 6 ft. apart
After the recessional, graduates will need to exit the facility through the Rose Street entrance and make plans to meet up with families/guests in the parking lot behind Memorial Coliseum.
Please plan to arrive by 2:30 p.m. to get lined up.  We will need to make sure everyone is in the correct order and will be confirming the pronunciation of each graduate's name.
 

PHOTOGRAPHY

A professional photographer will take a picture of you on stage with Dean Davis and an individual picture of you after exiting the stage. 
The graduates' mask may be removed for the brief amount of time the photo is taken off the stage, but masks should remain on during the ceremony and while they are on stage (including photo with the Dean).
After the ceremony, a class photo will be taken in your seats.  You may briefly remove your mask during the class photo. 
You will be contacted directly by the photographer in the weeks following the ceremony with information on how to purchase pictures if you are interested. 
 
EVENT INFORMATION
GUESTS

​ENTRY

Memorial Coliseum and the Joe Craft Center are two buildings that are connected at multiple points.
Guests will enter the Joe Craft Center Ticket Office, located on Lexington Avenue.  NOTE: This will be the only entry point for Guests.
Doors will open 1 hour prior to the start of the event.
Guests are required to arrive with the individuals in their pod of four.
Should a group require less than 4 tickets in a pod, the remaining tickets WILL NOT be distributed.
Upon entry to the Joe Craft Center Ticket Office, guests will be asked to list the name of the graduate they are a guest of.  Guests will then receive their tickets with a designated section, row and seat numbers then proceed into Memorial Coliseum.
All seating in Memorial Coliseum is reserved.  Guests are asked to sit in the assigned seat locations listed on their ticket.
There will be a NO BAG POLICY for all End of Year Ceremonies hosted at Memorial Coliseum.  Exceptions will be made for medically necessary items.
Guests are permitted to enter with one unopened bottle of water smaller than a liter through the entry point at Memorial Coliseum.
Should guests need wheelchair accessible seating or will rely on closed captioning for ceremony enjoyment, please notify us prior to the event.
Please be advised that Memorial Coliseum does not have air-conditioning.
 

HEALTH & SAFETY INFORMATION

Face coverings, over the nose and mouth, are required for all guests as they enter, exit, and move around Memorial Coliseum.
Limit time spent on the concourse – no loitering or congregating
Utilize hand sanitizer and wash hands as frequently as possible
Guests are asked to perform self-screening evaluations and to stay home if they feel sick or may have been exposed to COVID-19
Guest seating will be configured throughout the general seating bowl to provide physical distancing between seat blocks
Please keep a distance of at least six feet between yourself and other guests who are not in your party.
Families will be encouraged to meet up with their graduate at their vehicles and not allowed to wait in the Memorial Coliseum concourse.
 

LIVE-STREAM

A live-stream will be available on the Rosenberg College of Law YouTube page for those who are not able to attend in person.  See below for link.
PARKING INFORMATION
Parking will be available behind Memorial Coliseum as well as in the 3 parking lots off Linden Walk (behind the King Alumni House and Stuckert Career Center).
Parking structure 5 (South Limestone garage) will be available as well but visitors will be responsible for hourly fees.
There will be designated ADA accessible parking behind Memorial Coliseum with a valid tag or permit.
​
**For questions, or additional information, please contact: