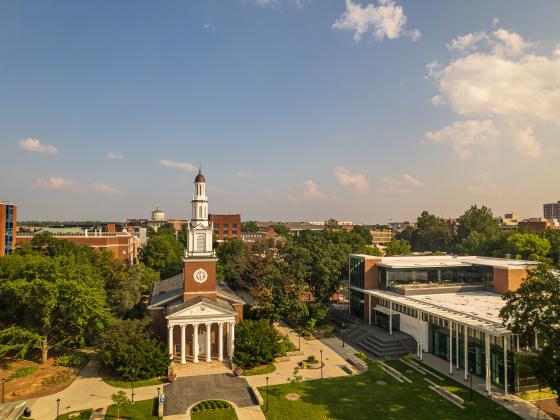 UK's Lexington Campus is located just south of the downtown area and has over 100 major buildings. The campus consists of a graduate school, the University hospital and 16 colleges. UK's Graduate School offers 90 master's degree programs and 61 doctoral degree programs. Enrollment on the central campus is more than 26,000 and includes students from every state and more than 100 foreign countries. UK's W.T. Young Library is a state-of-the art research facility that was completed in 2000.
The College of Law and our students benefit from having available the research and instructional facilities of a major university, as well as the amenities of a large university campus.
The Law Building
Centrally located on the University of Kentucky's main Lexington campus, the College of Law is a self-contained academic unit with complete facilities for a quality legal education. The College of Law ranks as a medium-sized law school, with approximately 388 full-time students and 34 full-time faculty members. UK is large enough for a diverse and interesting curriculum, and small enough to foster friendly relationships among students, faculty and administrators.
The Law Library is a part of the Law Building, and contains over a third of a million volumes. The Law Library is arranged to provide students with easy access to all necessary research materials. In addition to state, federal and administrative court reporters, the Law Library is a depository for U.S. Government publications. Perhaps the Library's greatest resource is its staff, who are dedicated to providing the best possible service to UK Law's students and faculty.
Visit Lexington
Headed to Lexington? The Visit Lex website is a great resource for things to do, hotels, restaurants and more.