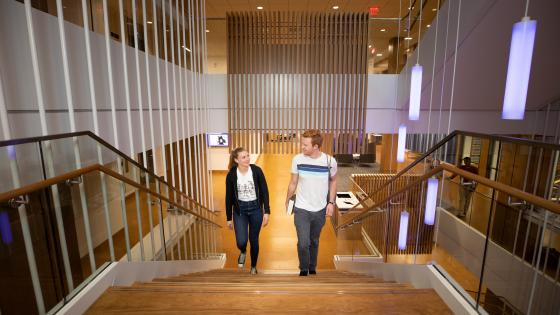 UK Rosenberg Law admits first-year students in the fall semester only. There is no part-time program at UK Rosenberg Law. First-year applications are accepted starting on September 1 through April 30. Applicants must apply online through the Law School Admission Council (LSAC). For priority consideration with regard to scholarships, applications must be received and completed no later than March 1.
First-year application requirements include:
Online application and $50.00 fee (via LSAC)
Official transcripts from all undergraduate institutions (via LSAC/CAS)
LSAT score(s) from the last 5 years (via LSAC/CAS)
Personal Statement (via LSAC)
At least 2 Letters of Recommendation (via LSAC/CAS)
Resume (via LSAC/CAS)
Other Optional Materials (Addenda, UK Law interest statement) (via LSAC or to UK Law Admissions)
Amending/updating your application (optional)
After applying, you will receive an email acknowledging receipt of your application from UK Rosenberg Law with information regarding how to access the online status checker.
Resume
Please submit a copy of your resume with your application. Resumes are now required.
Admission Decisions and Tuition Deposit
Admission decisions are made on a rolling basis. The Admissions Committee begins its evaluation of files in late November of the year before admission, with the majority of decisions being made from January to March. You will be notified regarding the status of your application via email as soon as possible after your file is reviewed by the Admissions Committee.
If you are offered admission, you will be required to reserve your place in the entering class with one nonrefundable deposit of $400, which will be applied to your tuition for the Fall 2021 semester. For the majority of students admitted the incoming class of Fall 2021, this deposit will be due on May 1, 2021.  Your deposit can be paid by credit card online the Admitted Candidate site. You may also pay your deposit by check or money order (made payable to UK Rosenberg College of Law). You must pay your deposit by the applicable deadline to officially reserve your place in the entering class.
Amending/Updating Your Application
If you are sending an updated transcript or an additional letter of recommendation, you should send them through LSAC's CAS. You should be sure to update your application (before or after a decision is rendered) to ensure it reflects any changes to the Character and Fitness questions and to be sure it remains truthful and complete. As always, if your contact information changes please let us know by sending an email to: uklawadmissions@uky.edu.