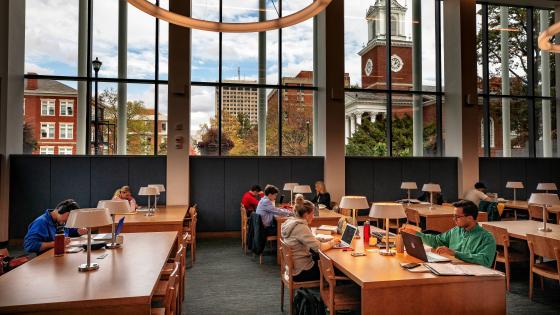 Best Value Law School ranking by National Jurist Magazine in 2021
6th in the country in full-time, long-term, bar passage required and JD advantage employment, excluding school-funded jobs, for the Class of 2020 [See Employment Statistics page for more information]
First-time bar passage rate for Class of 2020
At UK Rosenberg Law we are proud of many things including the environment, our faculty, curriculum offerings, job placement, and bar passage statistics.
The Faculty
The faculty at UK Rosenberg Law have a wide range of experiences in practice and government service, as well as in teaching and research. UK Rosenberg Law has a strong tradition of faculty being invested in their students' progress and success. The curriculum they teach offers broad training in the law and legal methods, drawing upon sources from all jurisdictions. Accordingly, UK Rosenberg Law graduates are well prepared to practice in any of the 50 states. 
Clinical Opportunities & Externships
UK Rosenberg Law offers students a variety of clinical and externship experiences. The UK Legal Clinic, located in its own building just across the street from the law school, gives students the opportunity to represent low-income or elderly individuals, as well as UK students in a variety of civil legal matters. The Clinic is supervised by a faculty member who spent ten years as a trial attorney. Another popular clinical course is Litigation Skills, taught in UK Rosenberg Law's courtroom by local practitioners and faculty with extensive litigation experience.
In addition, UK Rosenberg Law offers several externships for course credit, in which students can obtain experience in applied research, fact gathering, interviewing, counseling, negotiation and trial advocacy. More information on UK Rosenberg Law externships can be found here.
Dual Degree Programs
UK Rosenberg Law currently offers five dual degree programs. Interested applicants must apply to both programs independently.
JD/MA: Candidates interested in a career in international law, international business, or government service in the international sector should consider the JD/MA in Diplomacy and International Commerce dual degree program in partnership with the Patterson School.
JD/MBA: Candidates interested in a career joining the legal and business worlds should consider the JD/MBA dual degree program with the  Gatton College of Business and Economics. JD/MBA students gain marketable skills and specialized employment opportunities in less time and with a smaller financial investment than might otherwise be required.
JD/MHA: The JD/MHA program is in partnership with The College of Public Health. Candidates interested in working within the healthcare industry, or with healthcare related legal issues should consider the JD/MHA program. 
JD/MPA: Candidates interested in a career in public administration, public service, or politics should consider the JD/MPA dual degree program with  The Martin School of Public Policy. 
UK BLUE (Bachelor-to-Law Undergraduate Education) 3+3 Program: The newest dual degree program, "UK BLUE," is a collaboration between the College of Law and the College of Arts and Sciences. This program will allow students seeking a law degree to save time and money by graduating in six years instead of seven. Students should seek information at the University of Kentucky College of Arts & Sciences. 
Co-Curricular Programs
There are four co-curricular programs at UK Rosenberg Law that students may earn course credit. First, students with an interest in legal research and writing may choose to apply to either of UK Law's two student-run law journals: The Kentucky Law Journal (KLJ) and the Kentucky Journal for Equine, Agriculture, and Natural Resources Law (KJEANRL). KLJ is the 10th oldest American law journal. Four issues are published annually, and each issue contains articles written by prominent national scholars and notes written by KLJ members encompassing a broad range of legal topics. KJEANRL is a multidisciplinary journal of law, science, and policy. Two issues are published annually, and each issue can contain articles focusing on the legal, policy, and ethical issues related to the environment, natural resources, land use, and energy, as well as shorter discussion pieces, descriptions of creative solutions to persistent problems, and commentary on policy and politics. Additionally, each issue will contain notes written by KJEANRL members.
Students interested in litigation and advocacy can also choose to apply to UK Rosenberg Law's competitive Moot Court Board and Trial Advocacy Board, both of which participate in a variety of competitions. UK Law's Trial Advocacy Board has historically been a top finisher at the regional competition of the National Trial Competition, and has won the Kentucky Mock Trial Tournament seven times. The Moot Court Board placed 1st in the George Washington Religious Freedom Moot Court Competition in 2012, and a member was named Best Oral Advocate at the Saul Lefkowitz Moot Court Regional Competition in the same year. 
Bar Passage
UK Rosenberg Law offers a well-rounded education from some of the finest faculty in the country. The curriculum is designed to assist students with practicing both in Kentucky and out of state after graduation. UK Rosenberg Law graduates consistently outperform the average pass rate on the Kentucky bar examination. UK Rosenberg Law graduates usually perform well on bar exams in other jurisdictions. For the most recent information about bar passage for UK Law graduates, please see the ABA Information Report on our website.
Student Organizations
UK Rosenberg Law's Student Bar Association (SBA) serves as the governing body and student activities board for law students. The SBA publishes a weekly student newsletter, sponsors regular social events, and organizes community service activities. The Student Public Interest Law Foundation (SPILF) organizes fundraising events throughout the year to sponsor 15-20 summer internships with public interest and public service organizations. In addition, the Black Law Students Association (BLSA) hosts networking events to connect current students with the local minority bar association and the Law Student for a Day event to connect prospective law students with UK Rosenberg Law.
See the full list of student organizations.
Career Development
UK Rosenberg Law students have the opportunity to take advantage of a wide array of resources offered by the Career Development Office including one-on-one career counseling, career oriented speakers, and on-campus interviews. The Career Development Office, staffed by UK Rosenberg Law graduates who practiced before returning to their alma mater, also partners with the UK Rosenberg Law Alumni Association to connect students with alumni contacts.
Job Placement
We are proud of UK Rosenberg Law's employment statistics that consistently exceed national averages. A majority of UK Rosenberg Law graduates choose private practice with 10-20% of each graduating class being selected for state and federal judicial clerkships.